Pigeon Point looked like how a lighthouse is supposed to look like. This photo is taken from a jut of land just off of the road North of the lighthouse. You can see the Youth Hostel in front of it. The panorama shows how isolated this lighthouse is.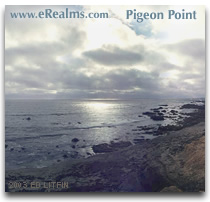 Looking West from the same vantage point (you can see this in the panorama).
| | |
| --- | --- |
| | This is inside the main building at the base of the lighthouse. It has been turned into a museum. Looking around the panorama, you can see the entry door into this room and many pictures on the wall. |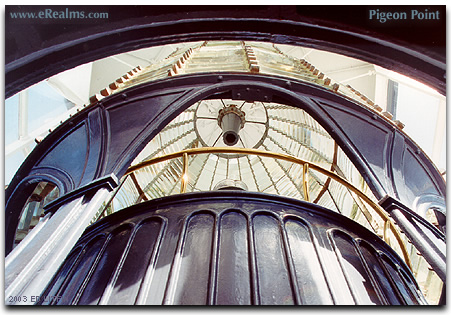 Looking up into the lens assembly from the level underneath.
| | |
| --- | --- |
| Looking down the stairwell. It resembles a nautical shell. | |
| | |
| --- | --- |
| | "Take Care of Tide Pools". One of two signs on the Boardwalk. Click on 'open larger image' to see a larger image (you can make out most of the text). |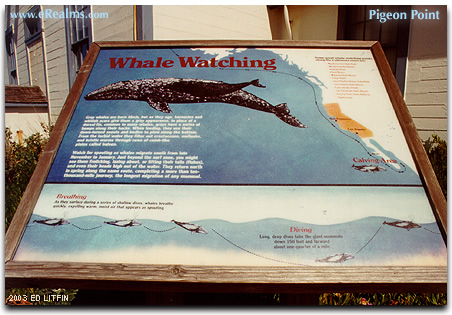 "Whale watching". The 'other' sign. Pigeon Point is one of the 'elbows' on the coast of California protruding into the ocean, whereas whales and other migrating sea creatures are often seen.
Pigeon Point at night. Annual lighting of the fresnel lens. These were taken on a very foggy night for the event, November 1997.
| | |
| --- | --- |
| | This was taken at the same vantage point as the first image, from the 'jut of land'. |
| | |
| --- | --- |
| This is one of my favorite lighthouse photos of all time. I turned it into a framed photo-poster which is now on a wall at my house. | |
On the left is not natural lighting on the lighthouse itself. I artificially lit it up to catch a better profile.

The image on the right is all natural.
SPECIFICATIONS
Location :

121 Pigeon Point Road
Highway 1
Pescadero, California 94660
MAP Approximate
Region :
Central Coast

Nearest Cities :

Pescadero (2 Miles), Half Moon Bay (North 20 Miles), Santa Cruz (South 27 Miles), SanFrancisco (North 50 Miles)

Interests :

First-order Fresnel lens, museum, Youth Hostel, fog-signal buiding, boardwalk - whale & bird watching, nearby beaches, visitor center, tours.

Official Website :

Pigeon Point Light Station - State Historic Park

Related Websites :

Pigeon Point Youth Hostel

Comments :

[11/24/11] The Lighthouse is under restoration. Please visit California State Parks Foundation - Pigeon Point Lighthouse Restoration website for more information.